---
The vast majority of Americans are not part of the "LGBTQ" community — or however many letters the acronym has this week — but for some reason, corporations, sports teams, and even some Christian religions feel the need to bend the knee to them.
Well, the preferential treatment has only empowered the cult to a point where, if they don't get their way, they immediately resort to violence, like all left-wing militant counter-revolutionaries have done throughout modern history.
Case in point: Target Stores thought it would be smart (for some reason) to begin carrying LGBTQ and transgender-related clothing lines, but when the retailer began to promote the items, it faced a major boycott costing the chain billions of dollars in market value over the course of days.
That led the chain to pull the items from some stores and move the displays in others, which, in turn, triggered the gay, lesbian, and transgender mafia, leading to threats.
"CBS News affiliate WOIO in Cleveland, Ohio, received an email at 12:26 p.m. Friday warning of bombs that had been placed in five different Target locations near the city," Newsweek — which was among a very few mainstream media outlets to report on this accurately, noted on Saturday.
"According to a screenshot of the email, which was published by the outlet, the threat was made in response to Target's decision to remove its LGBTQ+ pride collection from its shelves earlier this week," Newsweek noted further.
"Target is full of…cowards who turned their back on the LGBT community and decided to cater to the homophobic right wing redneck bigots who protested and vandalized their store," read the email. "We won't stand idly by as the far right continues to hunt us down.
"We are sending you a message, we placed a bomb in the following Targets. We will continue to bomb your Targets until you stop cowering and bring back your LBGT merchandise," the email continued.
But the fact is, no one on the right is hunting anyone down — that is simply a lie used by Democrats and their left-wing sycophantic supporters as an excuse to commit violence against their political opponents.
Think about it: If LGTBQ people were being "hunted down" and injured or killed, those reports would be plastered all over the mainstream media for days on end — and yet, we've seen no reports of those crimes, have we?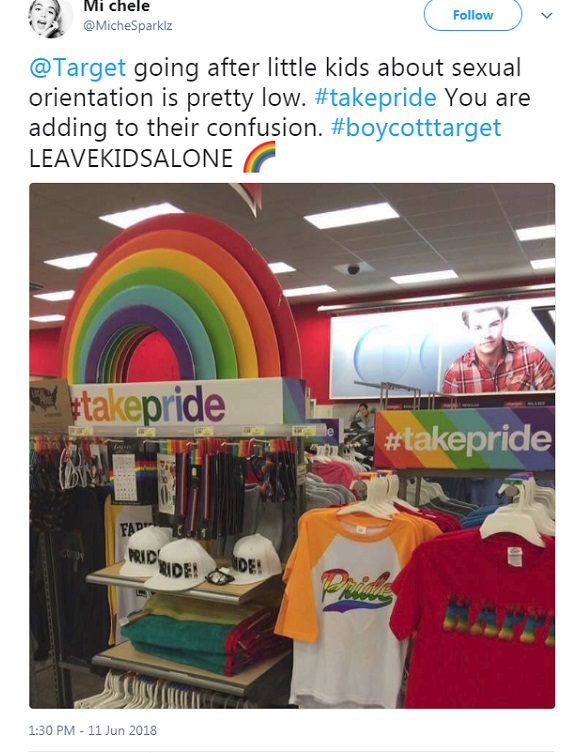 Nevertheless, Newsweek noted further:
WOIO's staff contacted local police departments as well as the Cleveland FBI regarding the threatening letter. According to a release from the Jackson Township Police Department, police dispatch received calls around 12:40 p.m. from both WOIO and WEWS, an ABC News affiliate based in Cleveland, regarding a potential bomb threat at a Target in their county.
Jackson Township officers evacuated and searched the store along with a bomb-sniffing dog from the Stark Country Sheriff's office, read the release. According to a report from The Repository in Canton, Ohio, no bombs were found at the location and store operations resumed around 3:15 p.m.
It's also important to point out that just recently, our figurehead president and geriatric commander-in-chief, Joe Biden, appeared at a historically black college to falsely claim that whites are the "biggest domestic terrorist threat" facing the country.
Now, why would anyone fabricate something like that in a multi-ethnic country if their intention wasn't to cause interracial violence that would lead to widespread destruction and loss of life?
Of course, it was intentional. He was told to say what he said for the express purpose of demonizing the white majority in our country and thus legitimizing violence committed against them.
The far left is a culturally and socially destructive force. Always has been. Leftists burn and tear down, they don't build and encourage prosperity.
And they will destroy America if we let them.
Sources include:
Submit a correction >>