---
Sponsored by Pfizer and promoting transgender everything while worshipping Satan, the 2023 Luciferian Grammy awards left no evil unturned. Hollywood has gone "full Satan," and isn't trying to be subliminal or inconspicuous about it in any way anymore. Hollywood's message is clear and it's all about tribute to the Prince of Darkness, and the message is brought to you by the most evil, death-jab-creating pharmaceutical giant on the planet… Pfizer.
65th Annual Luciferian Grammy Awards feature Resident Biden's wife and a grand tribute to the Prince of Darkness, perverted thinking, and the Covid death jabs
Yes, Resident Biden's wife, and Satan's first Lady, was on stage at the Luciferian Grammies to present an award and help represent for Lucifer and try to model for the whole country that we should have zero morals and ethics and worship the devil. The normalization of Satanic worship is now in full effect, and Hollywood, Disney, CBS, and Pfizer are leading the charge. The message from Hollywood is clear: Be a pervert, worship the devil, and get injected with Pfizer's toxic spike prions that cause cancer, heart attacks, infertility, and spontaneous abortions (sacrifices for Lucifer).
Broadcast by CBS (Created By Satan) network, from Los Angeles, the City of Fallen Angels, Lucifer's minions were dressed to kill while dancing in flames to the closing song Unholy, that features perverted, drug abuse lyrics, as follows: "Mmm, Daddy, Daddy, if you want it, drop the addy" (meaning a girl will have incest with her father if he takes some Adderall, an amphetamine drug that's a nervous system stimulant) …"give me love, give me fendi (meaning the girl wants her daddy, which could be her rich sugar daddy, to give her some fentanyl – an opioid 100 times stronger than morphine).
Let's not forget the theme of the FX/Disney movie "Little Demon" where the teenage girl's "Dad" is the "Prince of Darkness" and Satan gets her pregnant, abandons her, then comes back later for his baby's soul. You can't make this stuff up, unless you're a writer for the demonic Hollywood and Disney trans-everything cult.

Just like "Dark Brandon's (Biden's) backdrop in his demonic speech where he called all Conservatives enemies of the state. Notice the evil similarities to the demonic worship alters propagated by Hollywood and Disney? Is that why Dementia Joe is always sniffing little girls' hair and groping them at photo shoots and after his speeches? Is he "all in" for turning every person, of any age, into a demented pervert who only thinks about gender fluidity and satanic worship?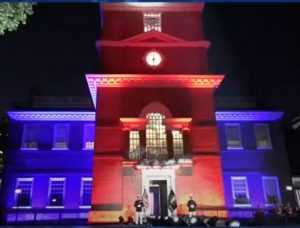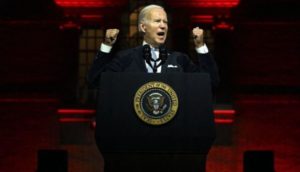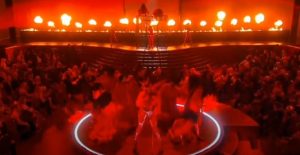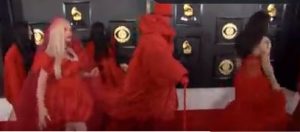 Demons have taken over the US government, the entertainment industry, MSM, social media, YouTube, and most professional sports
The witches, demons, and diabolical perverts are not only infiltrating, but completely taking over some of the most powerful positions in politics, entertainment, and professional sports in this country. As the Biden Regime converts our Republic into a communist hell-hole as fast as they can, big media, social media, YouTube, Hollywood, and Disney are carrying the (satanic) torch – the message that it's normal to worship evil, mutilate your genitalia, and support pedophilia.
The portrait of Hell on Earth and Satan in your "living room" (coming through the TV or smart device) is in plain sight, with prayers, rituals, symbols, sacrifices, and lots of fire to set the stage for the grand demonic transfusion (great reset). Watch as Hollywood promotes evil, demented perversions, and the dirty vaccines, sponsored by Pfizer.
Watch Sam Smith and Kim Petras performing "Unholy" as the closing performance at the 2023 Luciferian Grammy awards, as they pay tribute to the gates of Hell, incest, and transgenderism.
Tune your internet dial to Gender.news for updates on Hollywood and the communist Biden Regime influencing the whole country to worship Satan and be injected with the unholy death jabs for Covid.
Sources for this article include:
Submit a correction >>